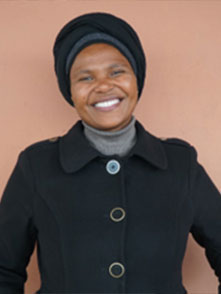 Director of Thembelihle Home
Director of Thembelihle Home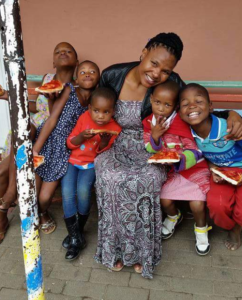 Pumeza's connection to Thembelihle Home started in 1999 after she completed her Senior Primary Teaching Diploma and was looking for positions. After a few months, Pumeza's cousin introduced her to Sister Mary Paulé Tacke. On their first meeting, Sister showed Pumeza Bethany Children's Home and offered the young teacher a volunteer position as a teacher at the nursery school. Later that year, seeing Pumeza's love for educating and caring for the children at Bethany, Sister offered her a position teaching at Bethany's partnering home, Thembelihle Home. This move would prove to be an act of fate. In October of 2002, Pumeza was offered a salaried staff position and a few months later she was asked to become Director of Thembelihle Home. Sixteen years on, Pumeza continues to develop and enrich Thembelihle Home to provide a loving, nurturing place for the children that come through its doors.
"If I was a person who was not filled with hope, I don't think Thembelihle Home would be where it is today. As the Director, it is my job to be hopeful. What gives me the biggest inspiration is my colleague's dedication, my friends, and my family. My family is the first to support me through the challenging times at Thembelihle Home, of which there are many. They know my work is demanding, and they support me in the long hours and time away from them. It is not uncommon for my siblings to volunteer or visit, and my son, nieces, and nephews also love to visit and play with the friends they have made here. I am grateful that my family loves Thembelihle Home. It is their presence that helps to make Thembelihle a home."
Pumeza is the epitome of humbleness, and this is reiterated by anyone that knows her or is familiar with her work. She is seamless in providing credit and gratitude to others and will quickly shift any praise to the mentors and staff that surround her. When we sat down with her, we wanted to shine a light on what has kept her at Thembelihle Home doing this work. Thanks Pumeza!