About Sister Mary's Children

The Beginning of SMC
In 2006 an Easter dinner was shared by co-founders Brenna and Joan Riggers, their family, and Mark and Maxine Tacke. Over dinner it was established that Mark's sister, Sister Mary Paulé Tacke, was in need of a volunteer for the upcoming year in Mthatha, South Africa. The next fall, Brenna boarded a flight to South Africa and became part of a fraternity of volunteers who for decades have worked supporting the most vulnerable in the community of Mthatha, South Africa.
In 2008, Brenna convinced her mother, Joan, to return to Mthatha to visit the place where she had spent 9 months volunteering. Brenna was finishing her second year of college, and Joan was a primary school teacher keen on experiencing the place and people she had heard so much about. The return visit was profoundly important for both mother and daughter and the dream of more concretely supporting the community and its vital projects was planted. Now, nearly ten years later, the public charity, Sister Mary's Children has been established to carry on and expand the support and growth of our three partnering projects that all share the legacy of Sister Mary Paulé.
Remembering Sister Mary Paulé Tacke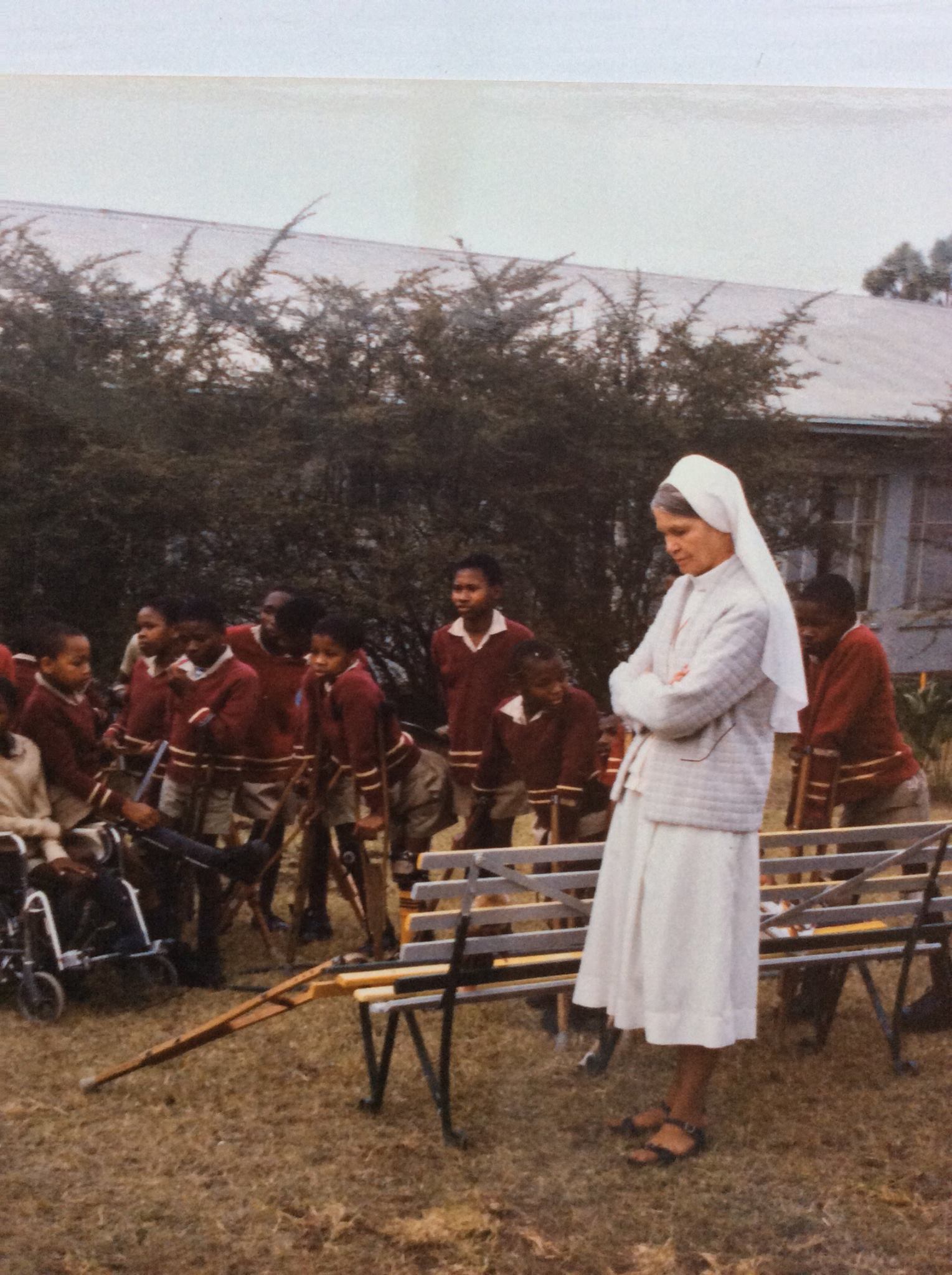 Sister Mary's Children bases its work in the legacy and memory of its namesake, Sister Mary Paulé Tacke. For over 50 years, Sister Mary Paulé Tacke was a pillar of social change, community development, and an advocate for the most vulnerable in Mthatha, South Africa. This project is in honor of her life, work, and the inspiration she has left in all of us.
Sister's story began in South Africa in 1952. After joining the Sisters of the Precious Blood Order of the Catholic Church, she left the United States for a world of service in South Africa. Shortly after arriving, She acquired her teaching degree and began teaching in the rural areas going about her duties on horseback. Due to the increasing racist and segregating policies of the Government at the time, she was prohibited from teaching black children. Sister was then transferred to Ikhwezi Lokusa, Mthatha, South Africa to pursue other avenues of service.
While at Ikwezi Lokusa, Sister helped to run a school for disabled children. She also helped to start a home for women and their newborn infants who were sick or in need of care. This home would later develop into what is now Bethany Children's Home. With nowhere to turn, the local police started to bring abused and abandoned children to Sister and the mothers and newborns at Bethany Home. During her 52 years of service, she helped see that many children were adopted or reunited with family. It did not end there, as she helped develop and direct other projects.
Seeing the need for a similar home for older children, Sister helped establish Thembelihle Home, for children ages 6 to 16. Many Sunday afternoons would find Sister at Thembelihle Home spending time with the older children. Its bustling activity and warmth gravitates all associated with the children and home. Sister truly loved this project.
As an educator, Sister believed education was paramount to success. Many of the staff involved with the projects have furthered their education under the financial and emotional support of Sister Mary Paulé Tacke. Sister was instrumental in putting countless young people through secondary education. Her persuasiveness and foresight led many locals and volunteers on to a fulfilling life of service. It is to her credit that there are many doctors, nurses, teachers and social workers both in the local community and around the world.
Alongside her direct work with the Children Homes, Sister also aided the the many affected by HIV/AIDS in the community. In an area where HIV/AIDS rates near some of the highest in the world, no one has been left untouched by the devastating effects of the epidemic. Throughout Sister's years, she made countless home visits, prepared weekly community food parcels, and assisted many other community boards and charities working tirelessly to combat the impacts of the disease.
The community who knew and loved Sister Mary Paulé Tacke experienced an immense loss in June of 2014 with Sister's tragic passing. Although we still reel from the loss, we are moved to continue in her spirit. Her most fulfilling moments in life were when she was supporting the little people she so dearly loved. Tireless in her advocacy for those less fortunate, especially children, she inspired the foundation for what is now Sister Mary's Children.